Designer Mentze Ottenstein
Designer Mentze Ottenstein
Equal parts practical and beautiful, the sweeping silhouette of the Etruscan Pitcher is shaped from mirror-polished stainless steel for a hardwearing yet elegant finish. Its exaggerated proportions include a tall, curved top handle and a tapered spout for easy pouring. The voluminous design makes an equally bold statement when serving chilled drinks at the table as it does used as a decorative object or cut flower vase. Available in two sizes: 12 in and 13 in.
+ more
- less
Regular price
Sale price
$225.00
Unit price
per
Sale
Sold out
In stock
Materials

Stainless steel
Dimensions

H12: Dimensions: 12.99"H x 10.63"W x 5.12"L, Volume: 1.8L


H13: Dimensions: 12.99"H x 10.63"W x 5.12"L, Volume: 2L
View full details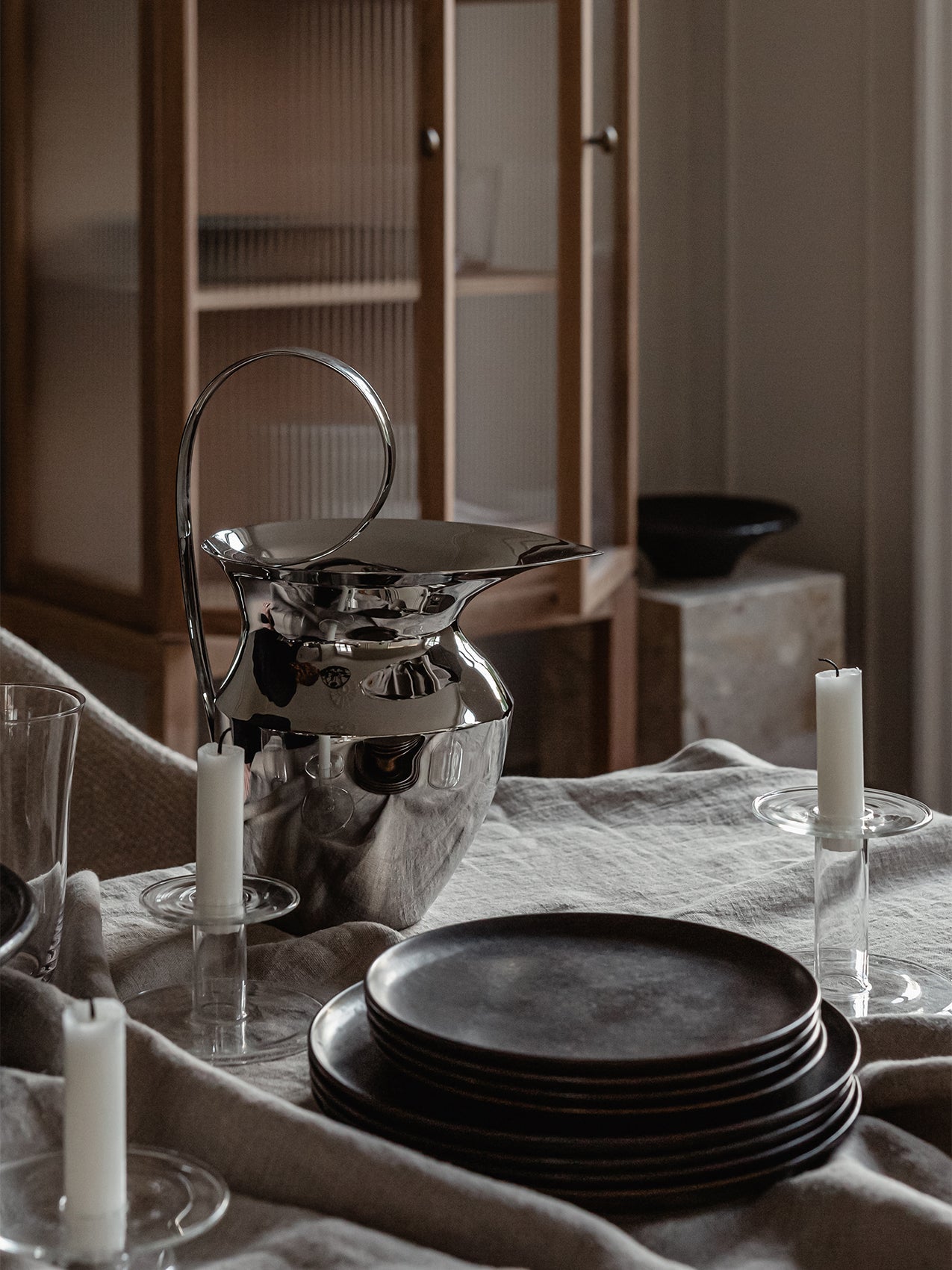 Mentze Ottenstein
Mentze Ottenstein is a collaboration between Danish architects and designers Mathias Mentze and Alexander Ottenstein. An architect and design lecturer at The Royal Danish Academy of Fine Arts, Mathias Mentze infuses design, history, craft and tactility into projects large and small. Architect Alexander Ottenstein has collaborated with high-profile Danish studios but is most passionate about smaller scale projects. Working across a range of disciplines, from buildings to objects to furniture, their common approach is often contextual. Designs emerge from a specific project or occasion, for a specific place. As a result, their work often contains numerous historical references and unfamiliar narratives that come to light through their extensive research. Mentze Ottenstein have created a range of characterful products for Audo Copenhagenthat are both timeless and timely and place great materials at the centre of each design.