Designer Kaschkasch Cologne
Designer Kaschkasch Cologne
Put your objects in the spotlight with Zet, a modular shelving system that delivers on freedom and function. Easily assembled or disassembled and relocated whenever you want, its delicate balance of order, convenience and style is shaped from materials selected for beauty and endurance. Based on just two components - wooden U-shaped shelves and a metal frame construction defined by diagonal Z-struts – it comes in six colors and with optional display shelves and back panels.
*Back panel and magazine shelf sold separately
Regular price
Sale price
$1,150.00
Unit price
per
Sale
Sold out
In stock
Materials

Base - Powder-coated Steel
Shelves - Oak Veneer MDF board

Our wooden furniture is offered in two different types – natural wood veneers and solid wood – equal in beauty and with only minor differences in look and durability. Wood veneers are made from thin sheets of natural wood that are applied to a base of MDF, plywood or chipboard, giving the surface the appearance of solid wood. The final product is then varnished with polyurethane for a durable, easy-care finish and to prevent spills damaging the surface and underlying design. Wood veneer furniture uses less wood than its solid counterparts, making it a more affordable option. Furthermore, wood veneers are less prone to splintering and warping that can result from a solid wood design.
Dimensions

1x2 System: 27.56"H x 60.24"W x 15.75"D
1x3 System: 44.88"H x 60.24"W x 15.75"D
1x4 System: 62.2"H x 60.24"W x 15.75"D
Back Panel: 14.57"H x 59.45"W x 0.63"D
Shelf Capacity is approximately 92.6lbs
View full details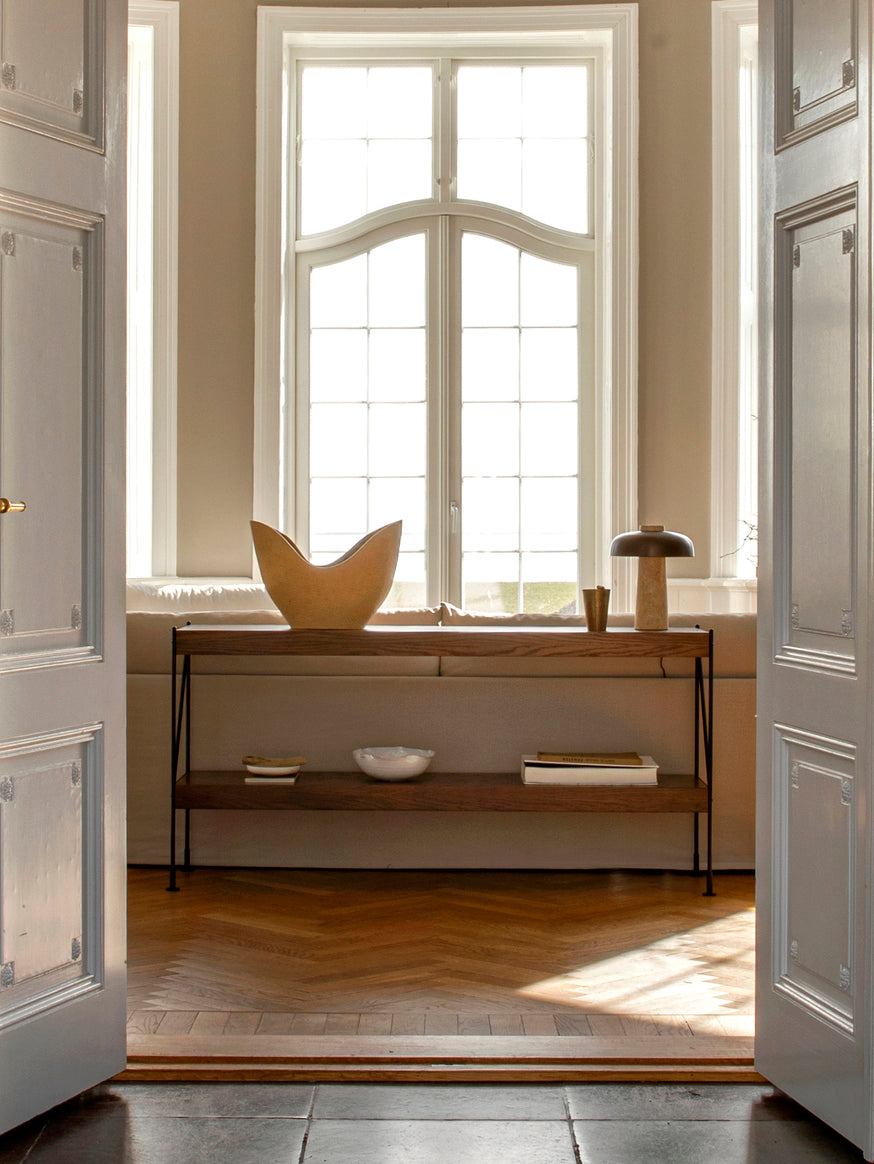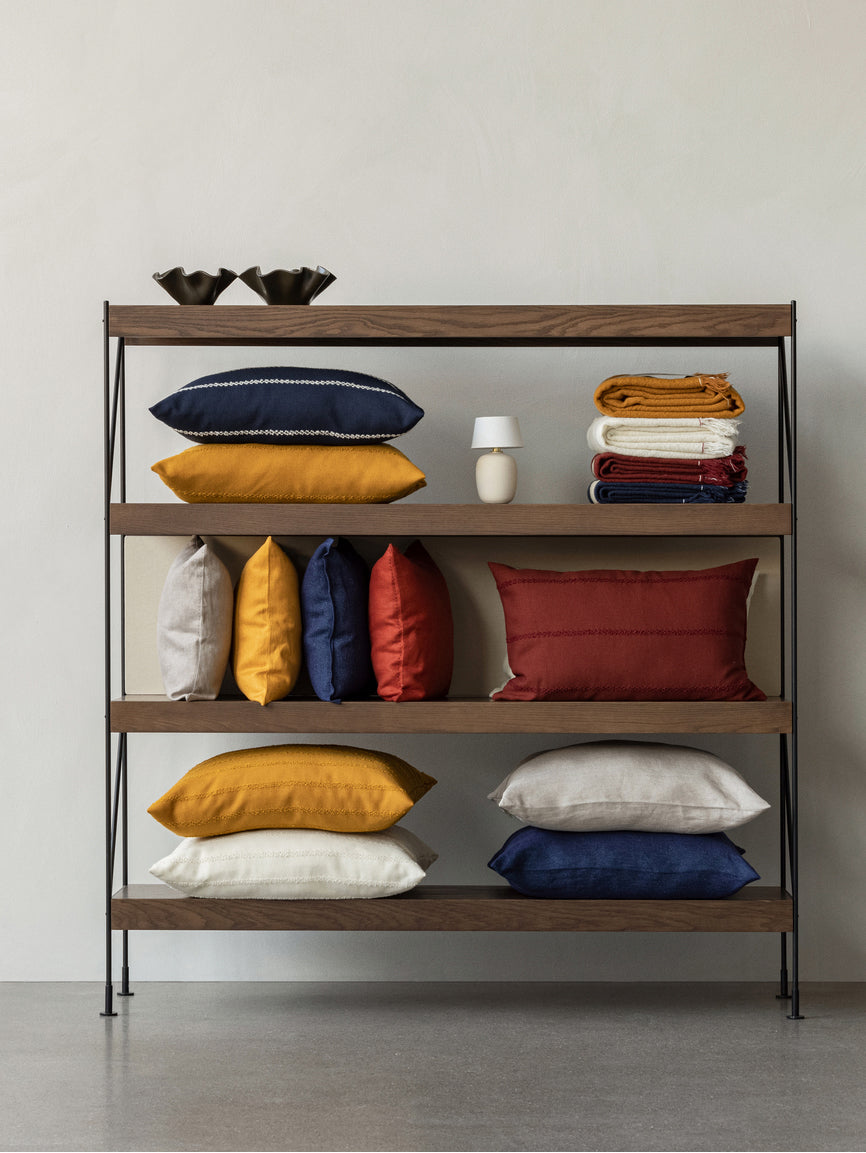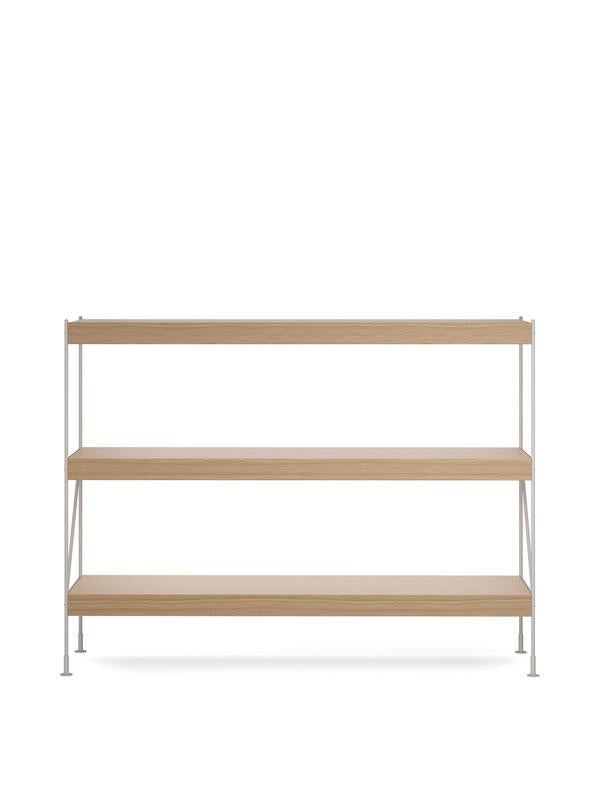 Kaschkasch Cologne
Design studio kaschkasch was founded in 2011 by florian kallus and sebastian schneider. The duo works in furniture, lighting design and art direction for several national and international clients. Being a duo, collaboration is a crucial aspect of kaschkasch's work. Discussion is key. kaschkasch approaches design as a helpful and practical component of life that conveys character and attitudes through the expressiveness of restraint. Basing themselves on this approach to design, kaschkasch wields a characteristic formal language that is inherently present in each design: it is a symbiosis of straightforwardness and beauty that toes the line between function and formal severity. The results are modest, challenging, intelligent and logical. kaschkasch questions prevailing norms and offers new answers to existing everyday demands. Florian Kallus and Sebastian Schneider share a background that combines hands-on and academic education: both are trained as cabinet makers followed by studies in product design. This versatility informs everything kaschkasch does. the studio appreciates the hands-on insight, practice and technical understanding, which contributes to their design method: traditional craftsmanship techniques and a mindset geared towards innovation, disruption and new technological solutions.