Designer Vilhelm Lauritzen
Designer Vilhelm Lauritzen
An exclusive and rare design from Vilhelm Lauritzen, the Radiohus Sofa was designed for Denmark's Radio House – today the Royal Danish Academy of Music – in 1936. A pioneering piece of Nordic Functionalism, the elegant design shunned the conservative and straight lines of the time in favor of a more futuristic expression. Beautiful from all angles, its curved lines and open construction welcome and embrace the sitter, while the quilted back highlights the exactness of its design. A piece of furniture that requires space, let it stand freely in a room.
+ more
- less
Regular price
Sale price
$8,400.00
Unit price
per
Sale
Sold out
In stock
Materials

Oak or walnut, plastic, steel, solid beech, plywood,
foam, felt, quilt foam, pocket springs, rubber.
Dimensions

30.31''H x 84.65'' W x 33.86''L, Weight: TBD lbs.
View full details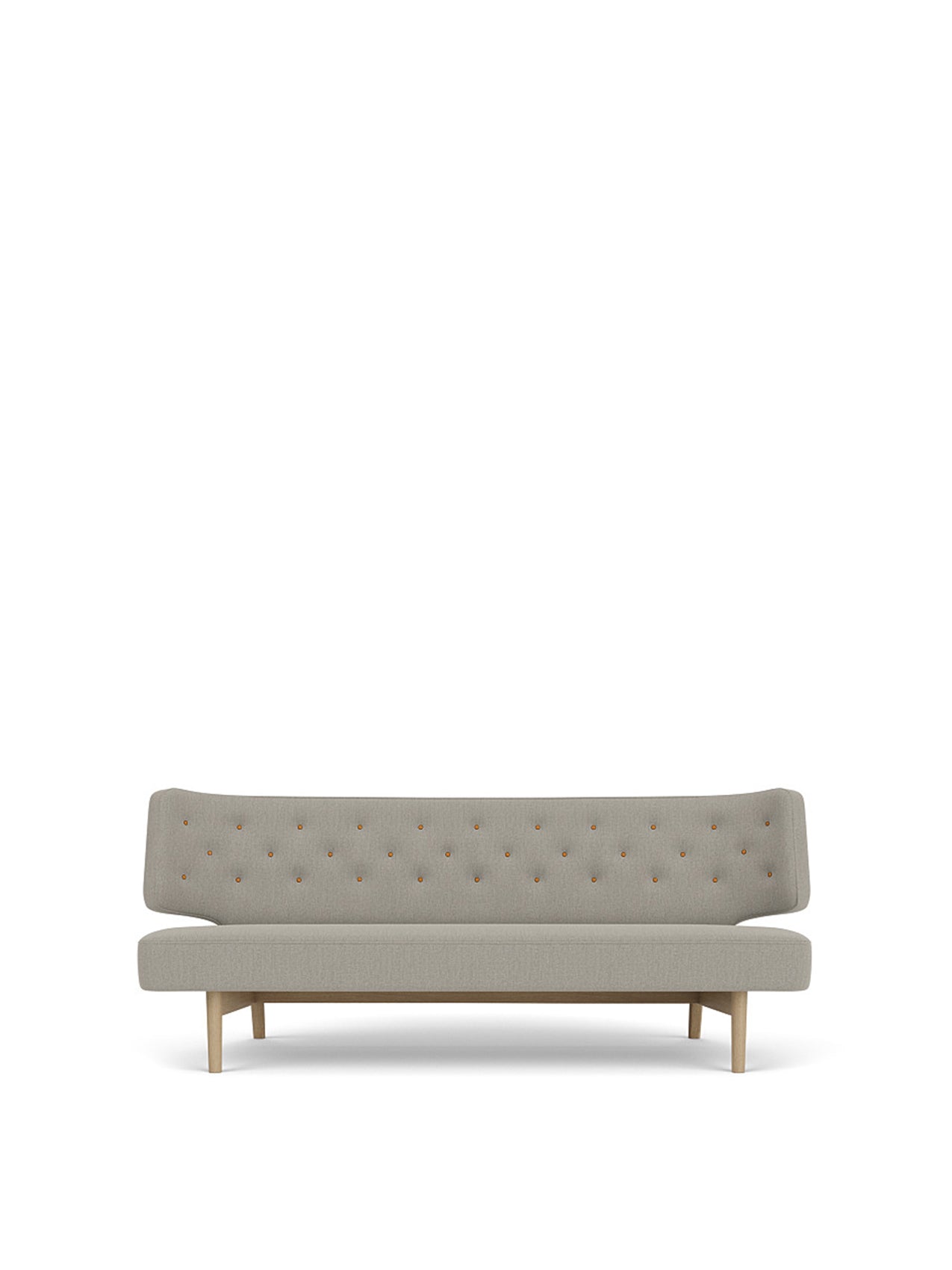 Vilhelm Lauritzen
Vilhelm Theodor Lauritzen (1894-1984) was a Danish architect who became a symbol of modern life in the 1930s. Educated at the Royal Danish Academy of Fine Arts, the prominent Dane established his eponymous practice in 1922, where he was active until 1969. He is noted for some of Copenhagen's most iconic buildings including Radiohus, Folkets Hus (now Vega) and the now defunct Terminal 2 at Copenhagen Airport, all of which are today listed. Radiohus, designed to headquarter the national broadcaster, DR, and today the Royal Danish Music Conservatory, stands as a proud symbol of Danish functionalism and modernism. Lauritzen's first sketches for the building were drawn in 1934, which was built between 1936 and 1941 and officially inaugurated in 1945 after the end the Second World War. Today, Radiohuset is regarded as one of the architectural masterpieces of the 20th century. Radiohus was a gesamtkunstwerk. Vilhelm Lauritzen designed everything from door handles, railings and ashtrays to lamps, sofas and counters, in close collaboration with Finn Juhl, who was employed under Lauritzen from 1934 to 1945. The Radiohus sofa was designed in 1936 for the foyer of the building. Profiling a new, soft Nordic functionalism, the sofa is a fusion of the two designers' sensibilities: Juhl's organic and sculptural idiom and Lauritzen's stringent functionalism. In addition to his modernist and functionalist building designs, Vilhelm Lauritzen created a number of iconic furniture pieces and lamps.